What is Internet Addiction
Addiction is a disease that disturbs a person's personal relationships, and school/work life. Internet addiction is characterized by an excessive urge to use the internet or computer, disturbing and impairing a person's life. Research and statistics show that the prevalence of internet addiction in the general U.S population is 0.3-0.7%. The addiction prevalent in males of the age group 20s and 30s, in areas of the world with more technological advancements such as the U.S, China, and Russia.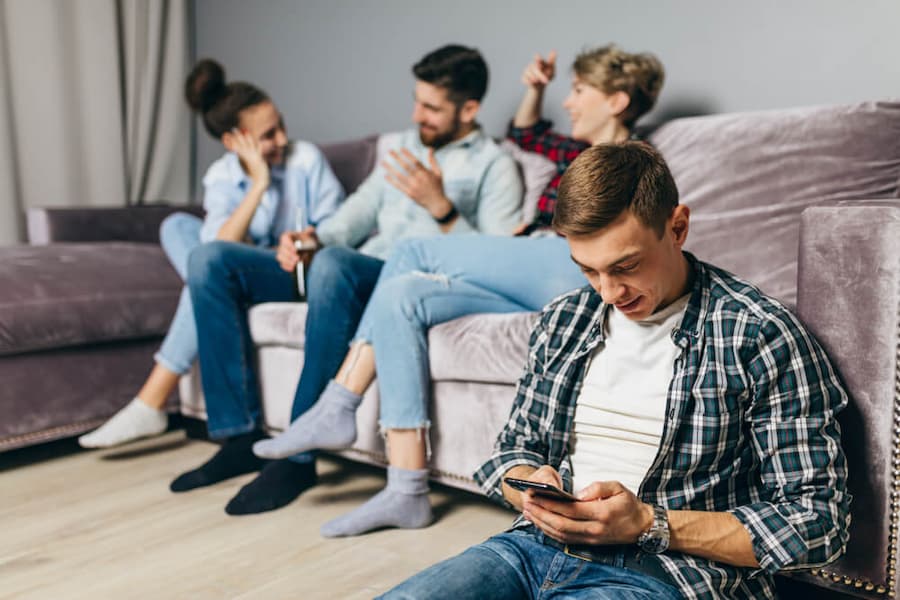 Causes of Internet Addiction — When the Virtual World Replaces Reality
Internet addiction is prevalent among:
People with these problems want to escape reality and spend most of their time on the internet, leading to addiction.
With the current technological advancement, some of the real world will be replaced by virtual reality between 2030-2050; people can see, feel, and even touch others with virtual reality. However, as long as our minds know that there is another reality behind virtual reality, replacement of the real world with the virtual world is nearly impossible.
The Mechanism of Formation of Internet Addiction
There are several factors involved in the formation of internet addiction. The hormone known as dopamine is involved in internet addiction. Dopamine is known as a happy hormone because it gives pleasurable feelings in the brain. The regular usage of excessive internet leads to decreased levels of dopamine D2 receptors, creating a vicious cycle of depression. Dysregulation of dopamine mechanisms (receptors and transporters) leads to forceful and uncontrolled behavior. Genetics and mental health conditions like depression and anxiety also play an important role in internet addiction.
Stages of Internet Addiction
We are living in a world obsessed with social media and the internet. With advancements in technology, internet addiction disorders are becoming more and more common. Information gathered shows that there are stages of internet addiction:
1. Experimentation The first step is the experimental use of the internet. For example, buying a new laptop and using the internet gives pleasure at first. This leads him or her to use the internet regularly.
2. Regular use of the internet Using devices like smartphones, laptops, and tablets leads to abuse of the internet slowly if not checked properly.
3. Abuse and excessive use the of internet This is the end stage of normal use; the person is on the verge of becoming an internet addict. Internet addiction signs start to appear at this stage.
4. Addiction to the internet This person starts using the internet and social media right after waking up, checking Instagram, Facebook, WhatsApp, or LinkedIn. If the internet supply gets interrupted, he or she will do whatever he has in his power to get the internet connection back.
Symptoms and Signs of Internet Addiction
Internet addiction disorders lead to psychological, physical, and behavioral changes. Some of the internet addiction signs are shown below:
Treatment Options for Internet Addiction
The best treatment plan for internet addiction disorders is a combination of psychological and medical treatment. The medical treatment plan for internet addiction can be used to treat the underlying disease such as anxiety and depression. Internet and computer addiction treatment program options are as follows:
Psychological Treatment
Psychological treatment of internet addiction is the most effective treatment plan for internet addiction disorders. It can be done in inpatient or outpatient departments of the rehab centers like VipVorobjev. The methods include:
Medical Treatment
The following medications may be used to reduce symptoms of addiction:
Inpatient Treatment vs. Outpatient Treatment
Medical and psychological treatment of internet addiction can be done in both inpatient and outpatient centers. Outpatient treatment is a bit cheaper and offers more freedom of action, whereas inpatient treatment is optimal for severe addiction or comorbid diagnoses.
Process and Stages of Internet Addiction Treatment in VipVorobjev Clinic
The best and most effective internet addiction treatment programs are available at the VipVorobjev Clinic. Process and stages are as follows:
Can Internet Addiction Be Overcome on its own
Yes, at the initial stages of the disease, internet addiction can be overcome by some healthy activities. Some of the tips that can help to get rid of the internet addiction are:
In complicated cases, it is better to seek help from professional addictologists to overcome the addiction without the risk of a breakdown.
Average Duration of Treatment for Internet Addiction
The patient with internet addiction disorder should understand that there is no fixed time to overcome this addiction. The one thing he or she needs to understand is to seek treatment as soon as possible. The average duration of treatment depends on:
Effective Internet Addiction Treatments
To get rid of addiction, a complex approach is effective. Below are several effective methods that can be used:
All these treatments are available at the VipVorobjev Clinic.
Cost of Internet addiction treatment
Cost varies depending on the length of the therapy. For example, if the treatment is given for a longer period of time, depending on the patient's health and willpower, the cost will increase. The cost of treatment in our clinic starts at 5,500 €.
Doctors
Every treatment of a disease depends on the doctor treating it. VipVorobjev Clinic has the best doctors from all over the world including:
Patents and certificates
With the best facilities and recognized addiction specialists, VipVorobjev is a DAACC (Drug, Alcohol, & Addiction Counselor Certification) accredited clinic that will provide you with the most efficient care to help you break the vicious internet addiction cycle.
"I immediately liked Vorobjov's clinic in Serbia. I think the staff and the atmosphere are really great here. Overall, I've been here for 2 weeks now and don't want to leave, as I'm slowly getting rid of my addiction."
"Great service, good luxury, great food. I took a break and got out of this vicious circle, I don't want to use anymore, I started a new life"