Halcion/triazolam is a prescription benzodiazepine medication used to treat anxiety and insomnia. The drug makes the user feel calm and relaxed, helping them to stay and fall asleep soundly. Halcion is meant for short-term use because it has powerful relaxant properties that may lead to addiction.
Besides, dependence and physical addiction to this medication can develop due to abuse or prolonged use. Below is a detailed review of Halcion addiction treatment, and how to break the abuse cycle.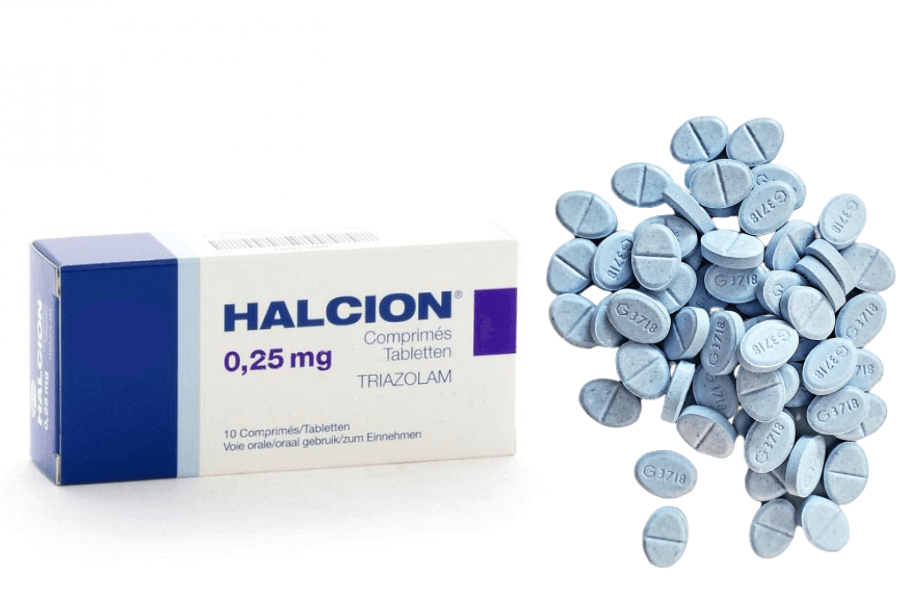 What is Halcion
Halcion is a short-term medication that treats insomnia, anxiety, and panic disorders. The drug produces sedating or calming effects by slowing down your nerve signals in the central nervous system. Halcion dosages vary individually, so following your doctor's directions is essential. Even with the correct dosage, Halcion can be addictive.
Indications for Use
This medication is prescribed for insomnia treatment. It slows down brain activity to enhance sleep. This means Halcion can help the user stay asleep longer and fall asleep faster.
Halcion Analogs
Temazepam, flurazepam, quazepam and estazolam can be substituted for Halcion to treat insomnia.
The Effects of Halcion Abuse
The longer you use this drug, the less effective it becomes. Halcion can be habit-forming and negatively affect the quality of your life. Overuse of Halcion can lead to short-term and long-term effects. Although the short-term effects may go away after the body adjusts to the drug, a rehabilitation treatment can help someone safely withdraw from long-term effects to achieve lasting recovery.
Symptoms and Signs of Halcion Use
An addiction to this drug can occur within a short period; as little as two weeks. Having the ability to determine the Halcion addiction signs and symptoms is essential to getting into early treatment.
Halcion Treatment Options
Halcion addiction treatment depends on the patient's severity of addiction. There are varieties of treatment options someone can choose. Some patients with severe addiction forms start with detox before transitioning to rehab. And those with mild addiction might decide to begin their recovery at an inpatient or outpatient facility. Our professionals will guide you through the preferred treatment, based on your substance dependence.
Medical Treatment for Halcion Addiction
Inpatient Treatment vs. Outpatient Treatment for Halcion Addiction
Process and Stages of Halcion Addiction Treatment in Our VipVorobjev Clinic
Recovering from Halcion addiction is not easy; the more it goes untreated, the worse it gets. We have a licensed and experienced team responsible for helping you break the addiction chains. Get to know how we start your Halcion addiction treatment:
Diagnosis of Halcion Addiction
The first step relies on a family member, friend, or someone who can refer the patient to treatment. The specialist will gather the basic patient information by asking about the frequency of use, if the substance usage is increasing, impairment of daily living, the pattern of using, and withdrawal symptoms when you stop or decrease use. Next, we complete a physical examination and run a blood test to assess your overall health. This will help our specialists determine which type of medical treatment is needed.
Halcion Detoxification Treatment
The primary role of detox is to enable the patient to stop taking Halcion safely and as quickly as possible. Detox also cleanses the patient body from the substance addiction effect. The process is done in medical detox programs and therapies under our medical professionals. It is a great treatment to start with for people with chronic addiction.
Outpatient Rehab
Outpatient rehab is best for moderate and mild Halcion withdrawal symptoms. This program includes medical care, family and group therapy, and mental health counseling.The patient has convenience and flexibility in the entire treatment, which lasts from a week to several months.
Inpatient Rehab
Inpatient rehab combines medical treatment and psychiatric care in a live-in clinic. We direct outpatient to at-risk individuals, where they stay under therapists, physicians, and nurse care around the clock. We offer supervision, step-down programs, clinical guidance, and medical detox to patients between 30-90 days.
Dual Diagnosis
Dual diagnosis is the most preferred treatment for addiction and mental health patients. The person treated receives prescribed programs for both disorders through detox withdrawal, therapies, and medical-assisted medication.
Aftercare
Aftercare programs promote self-efficacy, prevent relapse, and develop coping skills. Aftercare is great for every person who has undergone the above treatments. The program helps the patient to maintain sobriety and fulfill life after recovery.
Average Length of Halcion AddictionTreatment
The average time you will take to recover from addiction differs from others. Your addiction level will determine the length of the treatment program. The earlier you start, the better you will be.
The Effectiveness of Treatment for Halcion Addiction
Any treatment program recommended by our certified specialists is effective; however, the results vary differently per individual. Moderate to mild addiction can be dealt with by outpatient treatment, while severe addiction falls under inpatient treatment.
Cost of Halcion Addiction Treatment
The treatment program will define the cost of triazolam addiction treatment. Though the prices vary, we have the best options for all our customers with different incomes.
Doctors
It does not matter the level of addiction you are struggling to break; we have specialists who will safely and successfully lead you into your recovery journey. Meet our experts who will transform you into another new world of sobriety:
Patents and Certificates
We are certified and licensed drug & alcohol rehab counselors. And we have registered specialists to provide the patients with a full continuum of care. Our addictions MDs coordinate the necessary treatment program for each patient, focusing on their healing and growth. We believe in safe delivery with our life-changing treatments.
"Couldn't beat sleeping pills addiction myself. Many thanks to this clinic for the help!"
"I would like to mention the very strong team of psychologists who helped me to fight not only my addiction but also my depression and anxiety that had been bothering me for many years. Now I am a happy and clean person."
other Treating pill addiction: