Benzodiazepines, also known as benzos, are a large drug class. The class includes Temazepam (Restoril). Restoril is presently one of the most popular Benzodiazepines prescribed for the treatment of insomnia. People who abuse Restoril, as well as patients who take it for more than the recommended period, tend to get addicted or dependent on it. This article will shed light on everything from the symptoms to the treatments of Temazepam addiction.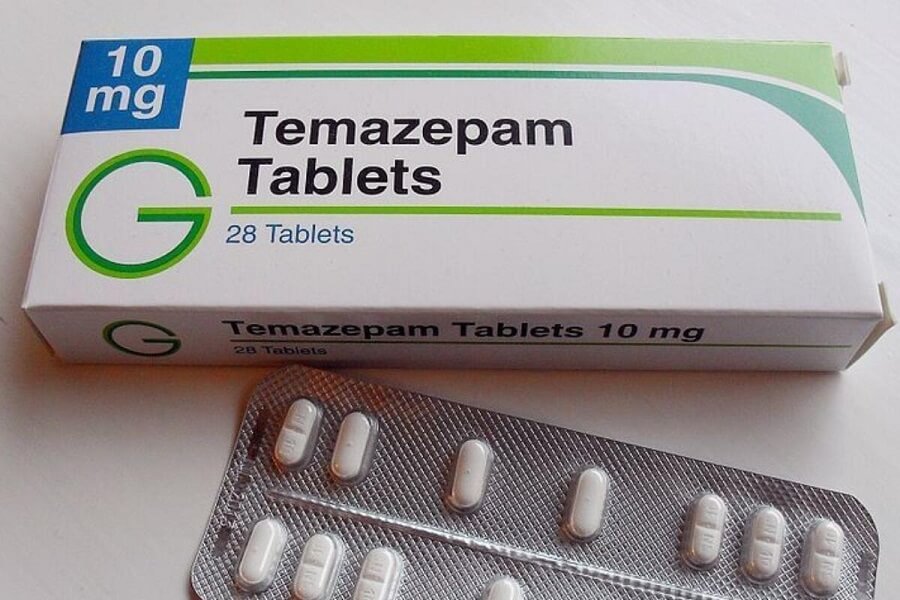 What is Temazepam
Temazepam is one of the most popular drugs in the Benzodiazepine class. It is well-known because of the powerful calming effect.
Temazepam is an FDA-approved medication that is prescribed for the short-term treatment of insomnia. Restoril can slow down brain function and block nerve impulses. Slower brain function will allow someone to relax and fall asleep easier.
Indications for Use
Restoril is recommended for 7-10 days. Going beyond the recommended timeframe may lead to the indivudal become addicted or depdendent on the drug. Recreational use of Temazepam can result in chronic health and mental issues.
Restoril Analogs
Temazepam may have different names, depending on the brand producing the drug. The main brand name for Temazepam is Restoril. Other brands refer to it as Normison, Temaze, Norkotral, or Nortem.
Temazepam may be referred to on the street as the below:
The Effects of Temazepam Abuse
Temazepam is effective and safe when used for a short period of time (7-10 days). When abused or used for longer than 10 days, the effects of Temazepam may become dangerous. Severe side effects may form from recreational use of Temazepam. Temazepam side effects may form if the drug is taken for two or more days after the recommended period.
Short-Term Effects
These short-time side effects may result when using Temazepam for a brief period of time. Some of these effects can results minutes or hours after taking the medication:
Long-Term Effects
Doctors will never recommend the long-term use of Temazepam because it is addictive and can cause the following effects:
Symptoms and Signs of Temazepam Abuse
Using Restoril for more than the legal prescription period (7-10 days) can lead to dependence or addiction to the medication. Individuals who abuse Temazepam or use it for longer than ten days may start exhibiting a host of physical, behavioral, and psychological symptoms.
Physical Symptoms
Here are some physical symptoms of Temazepam abuse:
Psychological Symptoms
Here are some psychological symptoms of Temazepam abuse:
Behavioral Symptoms
Here are some behavioral symptoms of Temazepam abuse:
Restoril Addiction Treatment Options
Restoril addiction can affect every area of someone's life. Without prompt treatment, the issue will deteriorate and cause other health and mental problems. There are several ways to treat Restoril addiction:
Medical Treatment for Restoril Addiction
One of the most effective treatments for Restoril addiction is medical detox. Medical detox is a round-the-clock treatment program offered at rehab centers. These centers usually provide 24-hour behavioral and medical support to patients.
Inpatient Treatment vs. Outpatient Treatment for Restoril addiction
Individuals who abuse Restoril for a short time may want to lean towards outpatient treatment, as it offers rooms to carry out daily activities. Patients can also attend outpatient group meetings and other activities to overcome their addiction.
Inpatient treatment is recommended for patients who have been abusing Restoril for a long time. Treatment is also a perfect option for patients with severe Temazepam addiction symptoms. During their time at the rehab center, patients will follow a structured schedule, participate in recovery group activities, and attend counseling sessions.
Process and Stages of Restoril Addiction Treatment in VipVorobjev Clinic
Temazepam addiction recovery treatment at our clinic is categorized into several stages:
Diagnosis of Restoril Addiction
Patients will be asked questions about how long they have been abusing the medication, how it has affected their life, and the symptoms they are experiencing. Several tests may be carried out to determine the severity of the addiction
Temazepam Detoxification Treatment
Temazepam detoxification will be recommended for patients who have been abusing Restoril for a long time and are experiencing severe side effects. The detox program is curated by our trained professionals to address patients' physical and emotional needs.
During the program, patients will receive treatment to help reduce cravings for Restoril. Patients will be closely monitored for severe withdrawal symptoms.
Drug Rehabilitation Program
The drug rehab program is either outpatient or inpatient. In the program, patients get professional lectures about drugs, health, and recovery from experienced medical doctors. Patients are also taught about enhancing their behavior and life skills.
Aftercare and Sober Living Programs
Aftercare services are essential for providing approaches, interventions, and strategies for treating Restoril addiction.We offer these services to patients to help them recover from drug addiction and return to normal community life.
The Average Length of Restoril Treatment
The severity of symptoms and the time spent abusing the drug will determine the length of the treatment.
Patients who abused Restoril for a short period may need to be treated for at least two weeks. Patients whose lives have been seriously impacted by the abuse of the medication may need to be treated for a month or more.
Effectiveness of Treatment for Restoril Addiction
The various treatments available for addressing Restoril addiction are very effective. The detox program can help patients deal with withdrawal symptoms and ultimately overcome their addiction. The behavioral counseling program can help revert the emotional and mental damages caused by the abuse of the medication.
Cost of Restoril Addiction Treatment
The treatment for Restoril addiction is available for various prices. Inpatient treatment programs are more expensive than outpatient due to the extra care and 24-7 monitoring of patients.
Patients on a tight budget can work with our doctors to prepare an affordable custom treatment plan.
Doctors
Our doctors have years of experience in treating different types of addiction. They can treat patients with the newest resources available for Restoril and/or other addictions. Our doctors are willing to go the extra mile to address the needs of every patient.
Certificates
We are DAACC specialists,offering patients certificates of completion for successfully finishing our rehabiliation program.
Reviews
Vipvorobjev have many positive reviews from patients who overcame their addiction with the help of our curated treatment programs.
Patients are impressed with our cozy and comfortable rooms, as well as our treatment programs. These services have helped lots of individuals get the help they desperately needed.
other Treating pill addiction: